OVERVIEW
Join Seven Clean Seas, SEA circular and partners for a webinar on UN World Oceans Day 2020 discussing real solutions for ocean plastic.
8 June 2020
6pm SGT
Panelists:
Moderator:
Tom Peacock-Nazil – Founder & CEO, Seven Clean Seas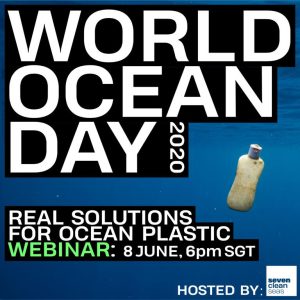 AGENDA
Overview agenda and discussion points:
6pm (SGT) Introduction
– Panel Discussion: "Real World Solutions for Plastic Free Oceans"
Questions include: 
Why do we have an ocean plastic pollution issue in the first place?
Who is responsible for this crisis?
What tools / solutions does humanity have to fix the issue? 
How much of the responsibility falls on the consumer?
Should solutions voluntarily be adopted by companies or should they be enforced by government policymakers?
What is the bottom line with plastic usage?
Do you think we can save the oceans?
Q&A from the audience 
Wrap up and takeaways 
7.15pm (SGT) Finish